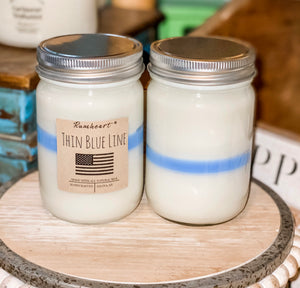 Thin Blue Line Candle
SCENT NOTES:
Smells just like the popular Abercrombie & Fitch* men's fragrance.


CANDLE INFO:

• Size: Volume 11oz
• Burn Time: 50+ Hours
• Wick: Cotton (Lead and Zinc Free)
• Wax: 100% Natural coconut/Soy Blend
• Premium Fragrance Oil
• Gluten Free, Phthalate Free, Non-Toxic, Cruelty Free
• Made in the USA | Hand-poured in Salina, KS



Burning Instructions:
The first time you light the candle, allow it to burn until the liquid wax covers the entire top of the candle. This prevents candles from boring a hole down the middle.  Keep wicks trimmed to 1/4 inch.