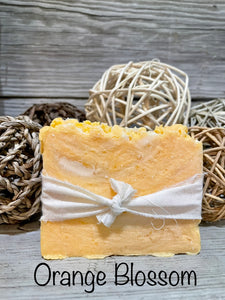 Orange Blossom Bar Soap
Orange Blossom is a light floral scent true to the scent of actual orange tree blossoms.
All of our soaps are handmade in our studio using our very own proprietary blend of American sourced Almond, Coconut, Castor, Palm and Hemp oils. This generously sized bar of handmade, hot process soap is sure to make your skin feel and look amazing with a smooth creamy lather and scent to last all day.

*All items are vegan and cruelty free